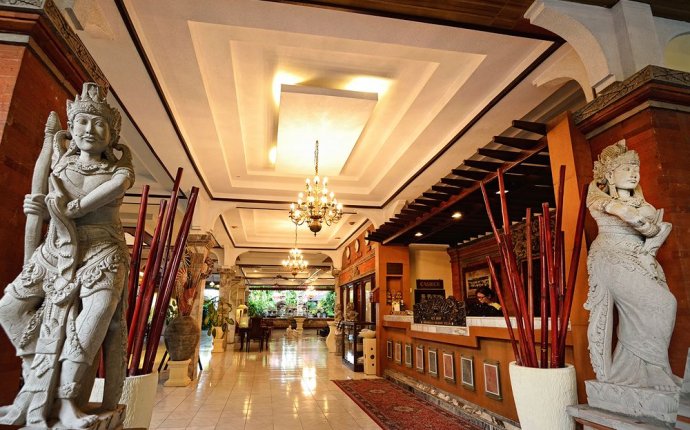 Diwangkara Holiday Villa Bali
Diwangkara Holiday Villa is located on the beautiful stretch of beach in Sanur in the southeastern coast of Bali island. This beautiful boutique property is surrounded by lush tropical garden and famous attractions like the famed Le Mayeur Museum, temples, Balinese art and craft arcades. The hotel is just 20 minutes drive from Bali International Airport and 15 minutes from Denpasar. Bali island, the perfect holiday destination for all ages. This tropical paradise has a unique blend of modern combined with a rich past and heritage.
Bali is one of the world's enchanting destination. It is a shopper's paradise with good bargains especially on the locally produced goods.
Sanur has long been a popular recreation site for people from Denpasar and elsewhere.
Diwangkara Holiday Villa is a 4-star boutique resort perfectly set on the beach front of Sanur. The resort consists of guest rooms at the main building, individual villas and bungalows in Balinese style with modern conveniences and warm Balinese hospitality to make you feel at home on the paradise island of Bali. The Villas and Bungalows are well decorated with individual style set amidst tropical Balinese landscaping to offer complete privacy for every rooms and villas.
The resort also provides banquet/conference facilities for up to 50 persons, a swimming pool, a children's pool and a spa for total relaxation of the body and mind using a unique Asian brand or tropical treatments and therapies.
Meanwhile sports enthusiast will be delighted to find international standard gofl courses, tennis courts and ten-pin bowling centre just minutes away from the resort.
At Diwangkara Holiday Villa, guests can relax in private at the tropical garden terrace, partake in sports activities or simply just lie, surf or sail on the beautiful white sands of Sanur.
Below list some of the places of interest with a one-line executive summary of what Bali has to offer.
* Batubulan : Daily Barong dance performance, fine stone carvings, furniture, terracotta pots.
* Mount Batukau : Virghn rainforests, serenity, Pura Luhur temple.
* Bedegul: highland retreat by the lake, crater, watersports, quality fruits and vegetables
* Besakhil Temple : Mother Temple on Mount Agong, huge complex of shrines.
* Jimbaran : fisherman village, beach, sunset, of Lake Batur, sunrise at peak of Mt. Batur.
* Kuta : surfing, beaches, sunsets, nightlife, shops of Legian
* Lovina : North near Singaraja, still waters, dolphin watch
* Negara : west Bali, water buffalo races (Jul- Oct)
* Nusa Dua : Luxurious resorts, diving and surfing, beaches, crystal clear water, surfing
* Sangeh : Monkey Forest, tall nitmeg trees, aggressive mongkeys.
* Sanur: First resort of Bali, beaches, black and white magic.
* Singaraja : North Bali, quiet, culturally distinctive
Source: www.hostelsclub.com