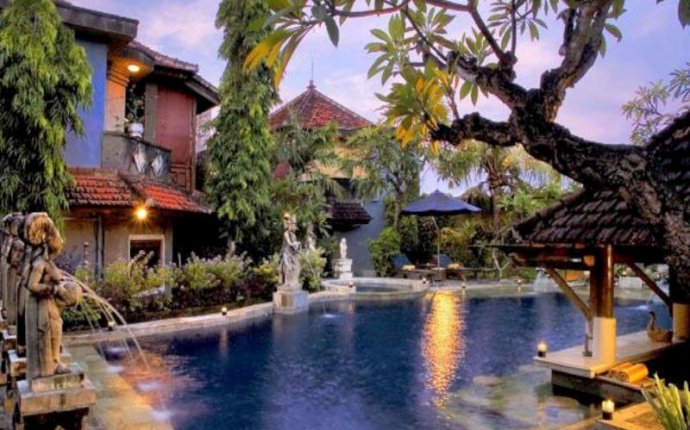 Putu Bali Villa and Spa
Putu Bali Villa & Spa just few minutes to the beach. 15 minutes to capital city of Denpasar, 30 minutes from international airport, close to International restaurants and entertainments and ideal point for shopping and sightseeing.
Pool accentuation with primitive Balinese statue melt into the rich natural tropical garden
Each villa is completed with open-air private bathroom (running hot and cold water), kitchen, private verandah, television, mini bar and air conditioning. The 16 villas, comprising of 12 one bedroom (7 Single Pavilion Villas and 5 Deluxe Pavilion Villas) and 4 two bedrooms villas, are set in beautiful and restive tropical garden surroundings.
The Villas are built in traditional Balinese style using natural materials such as wood and stone and are a good example of the creativeness and skill with natural materials that the Balinese are so famous for.
Room Facilities:
Air Conditioning (individually controlled), Television, Refrigerator, Self Service Kitchen facilities, Open bathroom with open shower & bath tub, Garden terrace, IDD telephone, sleeper and a Mini Bar and safe deposit box.
Villa Facilities:
Reception 24 hours, Restaurant, Swimming Pool, Pool Bar, Lobby Bar, Spa, Free Parking Area, Shuttle Bus Service, Car and Bike Rental, Tour Driver, Mail Service, Laundry, internet service.
Restaurant:
Putu Bali Restaurant serves complete Indonesian and International meals for breakfast, lunch and dinner
Putu Bali Spa:
Putu Bali Spa offers a complete natural and exotic spa experience consisting of beauty treatment, a relaxing Bali Massage, foot and aromatherapy, as well as a flower petal bath.
Swimming Pool:
The outdoor Pool accentuated with primitive Balinese statues melt into the rich natural tropical garden.
Bar:
Putu Bali Villa & Spa has two Bar such as Pool Bar & Lobby Bar, we serve any kind of cocktail products, mocktails, shooters, juices, coffee & tea and others.
Others Service Available on Request:
Private party Arrangement, Barbecue Dinner, Doctor On call, Hair Dryer, Laundry, Iron, etc.
Putu Bali Villa & Spa Salon, has embraced with exotic spa treatments that feel spirit of Bali tradition as Bali massage, foot & aroma therapy massage and flower natural spa experience combination within salon for beauty treatment as manicured / pedicure and Indonesian facial
Source: www.indo.com