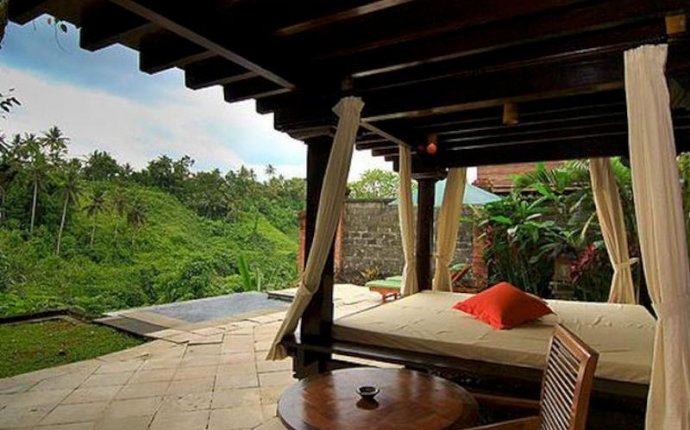 Natura Villa Ubud Bali
Walk 6 minutes or ride a rented motorbike along a tropical river path (and then up 30 steps) to one of three architect-designed loft-like antique joglo (traditional Javanese teak house). Passiflora is set in a rice paddy, which we have kept, partially intact, as part of our commitment to this agricultural tradition. Across the rice paddy is our other joglo, Jazmin, Marguerite, our freshly remodeled house is across the walking path. We have also recently added a shared salt water pool for the use of our guests!
Our area has no car access nor motorbike noise, but many sounds of geckos, roosters, frogs and collared kingfisher birds, while still walking distance from Ubud (25 minutes).
Passiflora is a reclaimed antique joglo brought over timber by timber from Java. Each of my joglos has its own personality. I carefully design every detail to make sure that staying in these transformed traditional structures is a one of a kind experience in luxurious but simple ecological living.
As you walk into Passiflora, you'll be taken by the spacious loft -like feeling (1000 sq. ft. /90 meters square) with the added visual pleasure of antique teak timber beams and carved wood panels. The roof is made of handwoven grass known as "alang-alang" here.
I have combined traditional elements, but the sensibility is modern with an emphasis on comfort. There are no villas in Ubud quite as uniquely in touch with nature as Passiflora and Jazmin.
Read on the daybed on the verandah, have a conversation in the living room then have a nap in the bedroom on the king-sized super comfortable bed overlooking the family temple. The kitchen is perfect for cooking: polished concrete countertops and reclaimed wood cabinet doors. At night, the bedroom locks up for privacy and safety, but the living room stays open for maximum connection with nature. You can practice yoga comfortably in so many spots and later bathe under the stars in the sunken tub. Made, Made and Eva will pamper you with healthy breakfasts of Bali Buda bread, Bali Coffee and our homemade yogurt and jam. No breakfast would be complete without a plate of tropical fruit. I'll leave you my list of my favorite secret spots and restaurants.
Honeymoon couples love the joglos, however I also love staying in the joglos by myself. Our houses are the only two in Penestanan which are connected to traditional Balinese family temples.
Like Jazmin, this is a truly unique experience for FIT folks who want to be in touch with the Bali of rice farmers in the most natural but still luxurious way! Enjoy!
I am always available via email and SMS. And we have a very complete list of all things wonderful that are must dos.. and a local phone for use of our guests with our numbers in them. Very handy.
Penestanan has become hip... and now has its very own yoga studio, meditation center, approximately 10+ charming restaurants (Indonesian, Japanese, Indian, Raw/Organic, Vegetarian, Vegan) and a cafe and bakery, so you don't even have to get on your motorbike.
We can organize a scooter for you for $5 per day or
you can take an expensive taxi to Ubud $5 per ride.. or you can walk... 20 minutes.. to all things Ubud . You can also hire a car with a driver for about $50 US.
We have been featured in the New York Times, Building in Harmony and recently, Lost Bali, a new guidebook that has chosen Passiflora as the ONLY CHOICE for where to stay in Ubud! We are quite flattered.
Source: www.airbnb.com