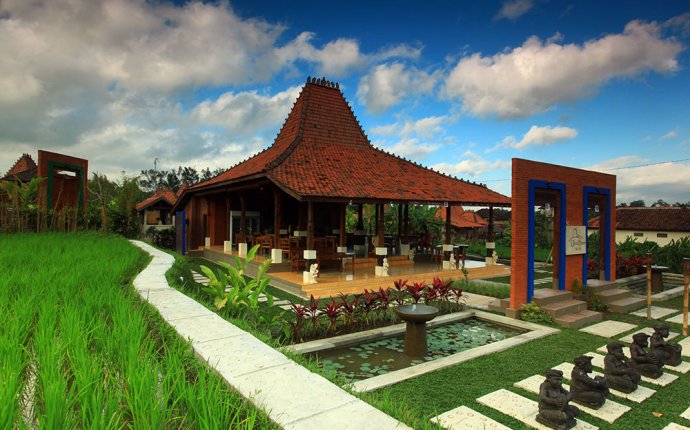 Heaven Villas Bali
My new villa is in a truly unique place: it is located at the very end of a beautiful rice-field valley, surrounded by a wall of a tropical forest with a natural stream falling from the heart of the woods and giving water to the paddies you will be looking at. There are also 2 natural and preserved fish ponds as well as the beautifully created by us garden. You can watch as the day passes by from the gazebo or the swimming pool /both having the magnificent view.
You will find all the calm and energy you need in Heaven as the presence of the rice-fields, trees, the nature and the constant valley breeze is very nutritive to your body and mind. You will find no roads coming in or out from the property- there are only stairs built by the local people in order for them to reach a hidden in the forest temple. You will have all the privacy you need to fully enjoy the villa.
Heaven's setting is truly grandiose - the vast rice-fields stretching along the fantastic valley make it a marvelously aesthetic experience. The rice-fields end straight in front of your infinity pool which makes the view even more magnificent and constantly changing, too. You can take long walks in the valley and come back to your personal Heaven when you're done.
There are no air-con devices in the villa because of a constant breeze coming from the valley/ no need for any cooling of the house/. There is nothing better than a natural air-conditioning.
In order to reach the place the guests have to take a path with 144 steps. This path was built by the Balinese to reach a small but important forest temple hidden at the foot of the woods and on the very border of where the forest ends and the rice-field valley begins. Important thing: if you feel you will not be able to take the path, this place might not be suitable for you. However, just to encourage you to experience the unique place, I will mention that the path has been frequented by the local people many times a day for many, many years now. All the luggage will be carried by villa`s crew plus I already was in Heaven a couple of time, each time with my very small children (now 5 and 3), and our stays were fantastic every single time!
So private and unique my villa will be perfect for all sorts of romantic/ meditation/life-loving/wellness/ fitness retreats or a simple stay for those who want to relax and enjoy the nature. HEAVEN held already a couple of weddings and a yoga retreat. Everything was perfectly organised by me and my Team. Feel free to try us for your own idea of an event/ stay!
Our staff can cook for you or order a take away from the nearest restaurant in Tegallalang. Heaven's menu will be sent to you after a completed booking.
The breakfast is included in the rentals.
Enjoy it and come back!
P.S. My manager, Nyoman, can serve you as a driver - his prices are very reasonable - or he can also help you with a vehicle rental.
Guest access
Heaven is also straight beneath Constance - those 2 places can then sleep 14 persons together when rented as Constant Heaven Villas/look up my profile/.
The whole property is to your service. The long walks in the rice-fields will be memorable.
My manager, Nyoman, can serve you as a driver - his prices are very reasonable - or he can also help you with a vehicle rental.
Interaction with guests
I will not be there to meet you as my main house is in Europe, but I am always here, email-wise, to help you with anything.
Other things to note
Please respect the nature you are surrounded with. You might see some insects, lizards, sometimes the harvest rodents can be seen, too. Do not fear them as they appear and disappear with peace. You find yourself on the edge of a tropical forest/ rice-field valley and the whole universe above your heads. Be respectful of other living creatures and love your stay in Heaven!
Source: www.airbnb.com