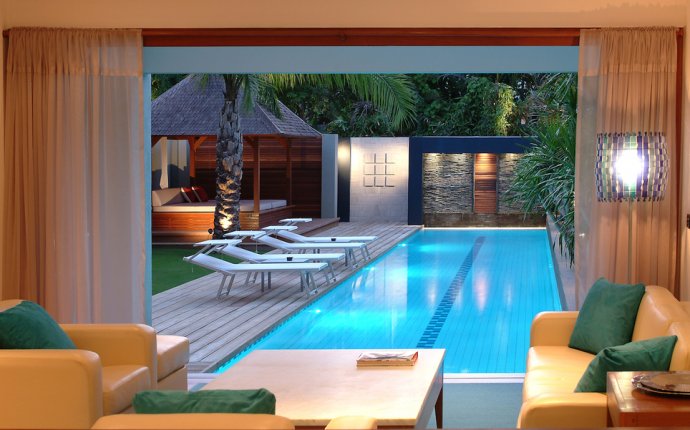 Downtown Villas, Bali
Nine luxuriously appointed villas in the heart of Seminyak offer Bali's most exclusive accommodation for discerning guests.
Perfectly situated just 2 minutes walk from the heart of Bali's trendy & chic district of Seminyak, Downtown's nine luxury villas, crafted into 1, 2 and 3 bedroom configurations are stylishly equipped with contemporary art & imported designer furniture & homeware.
All villas include a 20m lap pool (private plunge pool for 1 bedroom villas), fully equipped kitchens, broadband internet access and more than 37 cable TV channels delivered via LCD screen technology.
Downtown's Ku de Ta-trained chefs, together with a full room service menu, give total flexibility to suit dining preferences.
For those seeking to keep fit whilst on holiday, Downtown's fitness centre comes equipped with a multi-gym, cardio workout equipment & more.
Downtown Villas - Bali's first and only luxurious modern contemporary villa resort.
Property Features
BBQ Area
Outdoor Swimming Pool
Tour Desk
WiFi Internet
Free Parking
Terms & Conditions
- All rates are quoted in United States Dollars (USD) and will be charged in Indonesian Rupiah ( IDR) using hotel's exchange rate
- Please note that the credit card used for the reservation must be valid throughout the entire stay and must be presented during check-in along with photo ID and valid passport. Otherwise payment will be collected upon arrival. If booking is made on behalf of someone else, guest must contact the hotel directly for payment arrangement.
- Rates are valid for 2 person/room and 4 person for Two Bedrooms Villa
- Extra bed is required for the third/extra adult and child above 3 years old
- Children under 3 years old can stay with parents in an existing bed or cot as complimentary
Cancellation for standard rates:
* Period 1 April – 30 June, 1 October – 25 December, 6 January – 31 March. For cancellation received 7 days or less prior to arrival, or in the event of no show, cancellation fee of an amount equal to the entire value of the booking will be charged.
* Period 1 July – 30 September, 26 December – 5 January. For cancellation received 15 days or less prior to arrival entire value of the booking will be charged.
Cancellation for promotional rates:
- Our promotional rates are non-refundable/non-modify and full payment is taken upon successful completion of your booking
- Full payment of our promotional rates will be processed manually using our EDC machine, we are not using third party of online payment system
Source: www.thebookingbutton.com.au