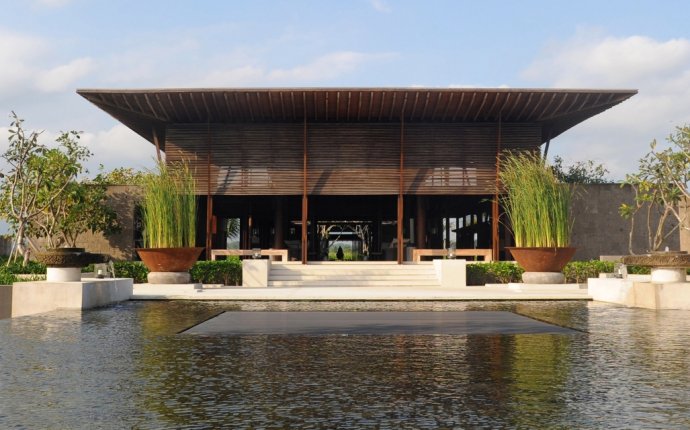 Bali Villa Architecture
This article originally appeared in the August 2009 issue of Architectural Digest.
Rob Cohen, director of action-adventure movies (The Fast and the Furious, Dragonheart) and an avid surfer, was soon to start shooting a film in Australia when he and his future wife, Barbara, decided to go to Bali for a holiday. There he contacted environmentalist and eco-designer Emerald Starr, who showed him a villa that was available on the Indian Ocean with "a surf break right out front." He promptly acquired the East Bali property, which also had a river running through it.
Cohen then met Linda Garland, an Irish-born interior and landscape designer and environmentalist who has lived on Bali for 35 years. He procured several additional pieces of land next to the first—he was eager to have a complete view from his place of Mount Agung, an active volcano sacred to the Balinese—and commissioned Garland to design a residence for him and his family, with Starr on board as environmental and sustainable systems consultant.
Garland had long been fascinated by the Minangkabau buildings of western Sumatra and proposed to Cohen that they revive the architecture on his seven acres. The residence would consist of three traditional Minang rumah gadang (big houses), with dramatically curved thatch roofs and multitiered upswept gables, and one lumbung (a rice house) to serve as one of the guest pavilions. Garland consulted with scholars of Minangkabau architecture and conducted a monthlong survey of the Minangkabau region of Sumatra to arrive at the selection of buildings.
The largest pavilion would be for the living and dining areas, and the master bedroom pavilion would be large, too; two guesthouses would be smaller. All four would be placed around a continuously flowing and oxygenating lake created by diverting water from the river, and they would have impeccably green credentials. "The houses are made almost entirely of recycled woods—primarily 100-year-old ironwood poles the electric company discarded after switching to concrete stanchions—and bamboo, " Garland explains. "The pavilions sit about 10 feet above the ground on huge stones. This sort of construction makes them less vulnerable to earthquake activity."
Sumatran master builders lived on Cohen's property during construction. A dozen carpenters erected the pavilions over a period of a year without benefit of cranes or Caterpillars and assembled them without nails, pegging them in place.
Cohen's furniture specifications included "oversize and comfortable, whether family and guests are in wet bathing suits or evening wear." Garland designed three 10-foot-long black-bamboo sofas for the living room and covered them in newly loomed Timorese cloth. "Rob agreed to let me send my collection of antique Timorese fabrics to Timor and paid to have them replicated there, " says Garland. The low table in the living room is a shaman's medicine storage chest made by the Batak tribe of Sumatra. For the dining room, Garland chose an old teak root for the pedestal, and a number of chairs produced by a local furniture company. An antique rattan mat, or lampit, from Kalimantan covers part of the teak floor, cut from a forest certified for timbering.
Garland told Cohen about a French anthropologist who had spent years in remote Balinese mountain villages. He had collected hundreds of Bali Aga statues, many dating back centuries, and now wanted to sell them off a few at a time. Cohen, who studied anthropology at Harvard, believed the collection should not be broken up and should be kept on Bali, so he bought them all. Many perch on raised steps at either end of the pavilion, where they grin, leer or scowl with characteristic Balinese originality.
From their commodious tented bed in the master bedroom pavilion, Rob and Barbara Cohen can see the ocean, while in their sitting area they look at both the sacred Mount Agung and the Seraya mountain range. The walls are woven inky blue-black bamboo. On one plaited wall is a collection of Balinese masks Cohen purchased from the French anthropologist. Some of the bedroom doors are antique carved panels from Batak houses, which have been converted to swinging saloon doors leading to the baths and dressing rooms.
"I made maquettes of the four buildings in bamboo and resited them numerous times to get the best mountain views and the best sunrises and sunsets and to catch the nicest breezes, " says Garland, who also designed the landscaping, selecting salt-tolerant palms that would thrive in proximity to the sea. "I spent days in the broiling sun overseeing 12 guys going through stacks and stacks of cracked and broken telephone poles until we found intact poles. I loved doing it and feel that this house is an ode to the archipelago of Indonesia—a fusion of Sumatra and Bali, Sulawesi and Sumba."
Source: www.architecturaldigest.com