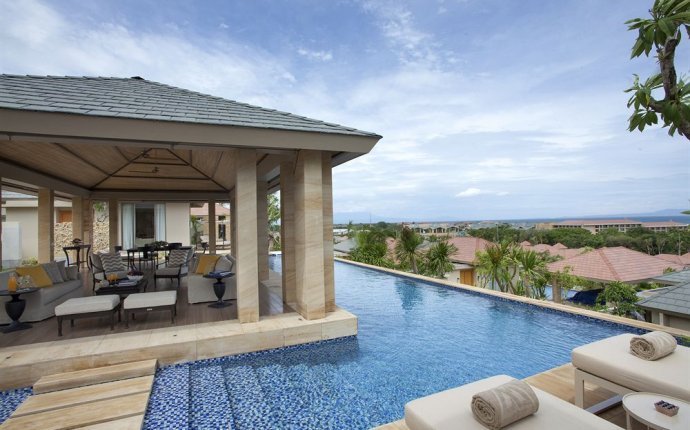 Mulia Villas Nusa Dua Bali
Mulia Villas – Nusa Dua, Bali is a tropical oasis made up of stylish private villas located on nearly 75 acres that are tucked into the hills of Nusa Dua. Offering total privacy and relaxation, each villa has an assigned butler who is on call to take care of every detail of your stay.
The property itself was designed to reflect the iconic terraced rice fields of Bali making way for each villa's lovely views of the Indian Ocean below. Mulia Villas is part of the large Mulia resort complex but retains a sense of privacy and exclusion.
The Setting
A pathway from hilltop villas weaves its way through the oceanfront property, passing the family temple and spilling out onto a perfect white sandy beach. (It's a five-minute buggy ride to the beach or you can walk.) Geger Beach is one of the most famous Nusa Dua beaches, known for its super-soft white sand and stunning peninsula.
Motorized water sports are not allowed, so there is much tranquility here. Occasionally you'll see an odd kayak or two heading out to explore the outer reef, which creates a calm bay.
If you prefer sand-free cabanas instead of the shoreline, hit up one of the six different pools or lay around the private pool back at your villa.
The Rooms
The large villas range from one bedroom up to the grand six-bedroom Mulia Mansion; each has its own large garden and hydrotherapy swimming pool, which gives you access to a water therapy session at your leisure.
Villas have a separate Balinese-style pavilion so you can have both indoor and outdoor living experiences. In fact, every door can be opened to the elements, allowing you to take full advantage of the stunning ocean views and breezes.
Classic décor punctuated with traditional Bali elements make for luxurious but not stuffy spaces. The luxe bathrooms have both indoor and outdoor shower choices plus a Jacuzzi tub. There is plenty of room to spread out — so much so that you may want to consider inviting new friends over for a hosted chef's barbecue, a popular dinner choice.
The Food
The private Living Room restaurant located at Mulia Villas is for villa guests only. Included in your room rate is an à la carte breakfast. Be sure to try the signature petite filet mignon. The resort complex has nine restaurant and bars that guests at the Villas are free to visit.
The resort staffs more than 100 chefs who specialize in a wide range of authentic cuisine from their respective countries, including Korea, Japan, China, France, Thailand, Vietnam and America.
The Café is a very popular choice for all-day dining with seven stations representing seven countries offering cuisine from Asia to Europe. There is even more variety for dessert — save time and make room for a trip to the dessert room, where a tiered chocolate fountain dominates the space.
Additional restaurant choices include Edogin, a Japanese restaurant with a tempting teppanyaki table and the fine-dining Chinese restaurant, Table 8, which has a menu the size of a small book and features dishes from every major region of China.
Source: www.forbestravelguide.com