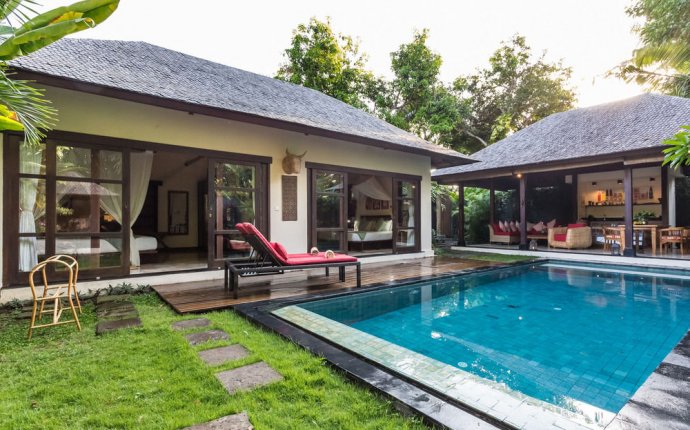 Mango Tree Villas Jimbaran Bali
Chef/cook(s): no
Maids: yes
Driver: no
Region: Jimbaran
Airport: 6 km
Description
This one bedroom villa is the perfect retreat for a couple looking for some alone time and privacy. Located in Jimbaran, the Beverly Hills of Bali, the villa is within easy distance of some of the island's most beautiful and breathtaking beaches while still experience true Balinese culture. As part of a gated compound, villa Mango Tree takes its name from the cluster of mango trees that provide a respite from the heat of the day in the shared courtyard. Within the private, lush walled-garden of the villa, however, the rest of the world disappears and provides the ideal setting for a romantic holiday. The colourful and stylish décor is modern and enhances the natural woodwork and open-plan design of the villa to provide space and beautiful views. Enjoy a leisurely breakfast or as the sun teases the private pool or sip a cocktail beside the moonlit waters as you share special memories with your partner. Within easy distance of the town, you can explore local Balinese culture or indulge in some personal pampering at one of the many local spas. At the end of a busy day, recline in the stone bathtub as the hot water washes over you and you prepare for a perfect night's rest in the luxurious king-sized bed.
About Jimbaran
This humble backwater fishing village has transformed over recent years to earn the title 'The Beverly Hills of Bali'.
In Jimbaran you can find the best beaches on the whole coast, a number of high end spas and luxury villas decorating the lush green ridges. You can lounge on the pretty palm fringed bay, delight in the taste of local seafood and peruse the chic boutiques lining the small streets and alleys of this charming, picturesque town.
Terms
Check in/out time
Check-in from 15:00, check-out before 11:00.
Deposit payment
When the availability of the villa is confirmed you must pay a deposit of 50% of the rental price within three working days to complete your villa booking.
Balance payment
The remaining 50% of the villa rent must be paid not less than 45 days before your scheduled arrival date.
Payment options
Payment can be settled with
- Credit card in:
USD, SGD, GBP, AUD, CAD, CHF, JPY, NZD, THB, EUR, HKD, DKK, SEK, NOK, MYR
or
- Paypal in:
USD, SGD, GBP, AUD, CAD, CHF, JPY, NZD, THB, EUR, HKD, DKK, SEK, NOK, MYR
or
- Bank transfer in
USD, SGD, GBP, AUD, CAD, CHF, CNY, JPY, NZD, THB, EUR, HKD
Maximum guests
2 guests (without extra beds).
Source: www.vilondo.com