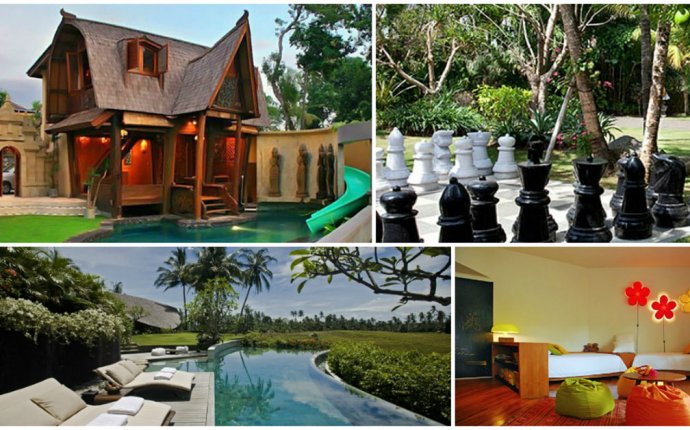 Family Villas in Bali
The View and surrounding are just mind blowing. The property offers all the ingredients you need for a luxurious relaxing family time. Good Service and Outstanding Food will make you instantly Focus on what you are here for: Relaxation, Good Times, Fun and Laughter and Good Facilities to stay connected to work, business and family and friends.
Kids can just Play, Swim, Explore for hours and hours. The Main House and set up of the gardens is designed to create a space in which everyone is connected, but doing his own thing.
Beach, Waterfalls, Restaurants, Snorkeling, live music bars and Dolphins only minutes away. Best English speaking cook of the North Coast runs the kitchen of this villa, from fresh made baby food, raw food, macrobiotic, ayurvedic to BBQ, Indonesian, pasta and French fries.
We help with airport transport, boat trips, excursions, grocery shopping, baby sitting, laundry etc.
Villa Bloom is suitable for couples, but also for families with children. There is an outdoor barbecue/grill and a yoga/meditation area. In the evening you can sit under the stars in one of the outdoor sitting areas and gaze at the boat-lights on the Bali sea. Relax in the pool or on the day beds or bean bags.
The English speaking cook runs the villa together with 2 other staff members. Our professional cook with over 15 years of experience can cook any dish: Indonesian, Indian, Ayurvedic, Raw Food, Macro biotic, Italian, French, Mexican etc. She makes our homemade granola, we bake our own cookies, make our own drinks etc. Bring your favorite cookbook (in English) and she will make it for you!
The cook is also available for babysitting your kids. We have play-areas all over our 35 acres property. There are toys, DVD, goals and beach toys. Furthermore we have a baby cot, 1 baby chair and kids tableware. The cook knows how to make fresh baby food. 2 life jackets are available. We have 2 baby car seats and 1 booster.
The Lovina area is known for it's beautiful nature, rich cultural and ceremonial activities and watching the dolphins.
There are numerous waterfalls, hiking trails and little roads to discover. Also it's the perfect base for exploring the North coast and the lakes. Lovina offers nice restaurants, many spa's and fun live music bars.
It's the home of Bali's only Buddhist temple, the beautiful rice fields at Mayong and coffee plantations of Munduk. Just walk or drive around: be in the garden of Eden; see fruits grow from every tree, smell the cloves and beautiful frangipani flower. From our villa start a walk through forest, along rice paddies and streams and through an authentic village; discover the real rural Bali. You can bike along the Coast and visit the temples or just be invited to a ceremony going on.
Your kids will also love it: dolphin watching, dolphin show, horse back riding, playing at the beach, swimming in the sea, exploring the surroundings (search for the chocolate tree!) and joining mom for a mini massage and nail polish! Snorkeling and diving at Mengjangan island (find nemo's house). Releasing a turtle, snorkeling and beach combing at the beach in Pemuteran. The giant tree at Munduk. Watching the locals stock which they keep at their house. Help with preparing offers for ceremonies. More waterfalls to be explored. And don't forget to hang out at Lovina beach, talk to the locals and eat homemade ice cream at Akar! And of course There are some lovely restaurants in the area which serve healthy food with no MSG's. We have a map with all these activities for you at the villa!
Source: www.vrbo.com