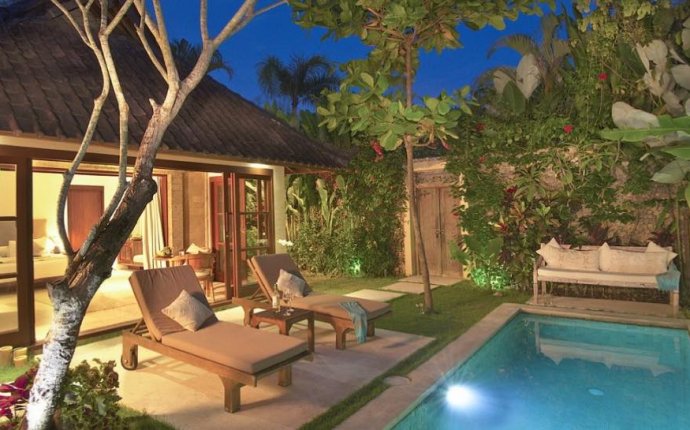 Best Villas in Bali for honeymoon
My wife and I spent 5 days at Banyan Tree Ungasan for our honeymoon in June 2012. We arranged our own airport transfer as those which were suggested by the resort were much more expensive. We speak Indonesian fluently so that certainly helps with surveying around for the best value.
There was a nice traditional welcoming ceremony involving flowers in the side of the ear and rice on the forehead.
We waited an hour before we were checked in as our villa was still being cleaned - we did not mind as we were still jaw-dropped with the resort, or at least what we can see and access to nearby the reception lobby. We spent that hour taking photos.
Guests generally travel by a buggy system as it is too far to walk from place to place. When I entered the villa, it was the best thing ever!!! To fully appreciate Banyan Tree Ungasan, pick the Cliff Edge Pool Villas!!! Only the pool edge villas have an unblocked view of the Indian ocean - other villas will have their views partially blocked by villas in front of them, closer to the cliff edge. The price was staggering really but I wanted an amazing honeymoon and I think it's money well spent.
Very spacious villa with a generous-sized infinity pool, a 24hr jacuzzi. 3 flat-screen LG televisions, Bose sound systems, an iPod male plug, plenty of power points for your own cables. Nice selection of minibar items, but they are a little pricey. Don't worry about getting dehydrated or spending lots of cash on quenching your thirst though, as plenty of mineral bottled water will be provided throughout the day via room service. If you finish them, just request for more, they will gladly provide you more water at no charge. You can also request for a serving of ice, which they include in a temp-sealed flask. Of course, if your palates need to be pampered with carbonated drinks etc, it will be very expensive in the resort - have your driver drive you up to one of the roadside minimarts to stock some up for your trip before you check in.
Breakfast at Bambu restaurant is amazing!!! It ends at 1130 so you can sleep for longer and even maybe go for a swim beforehand. Plenty to choose from - there is sushi, sashimi, cheeses, salads, pastries, asian rice, porridge, waffles, pancakes, fruits, honeys, cereals, etc; even sparkling white wine!
When you go for breakfast at Bambu, do bring along your camera - The view is fantastic! There is a large infinity pool with sun decks at the side.
The spa is just average at best, nothing fantastic. They did not inform me that the 'free spa' in my package was only for 1 pax as it did not state as such. I raised it up but the staff kept stating it is meant only for 1, despite me showing them the print I have which clearly states it does not include that detail. I did not want to ruin anything so I went along anyway and paid for the spa treatment for 1 pax, which in the end the staff gave me 20% off due to the incident mentioned. It was not fantastic but my wife and I had a good time.
Their room service is twice daily. The one in the evening sets your villa up nicely for a dim, romantic night for bed - with a little free gift/toy at your bed each night. They even provide you with night time bites at your guest table; I received choc-chip cookies, butter cookies and brownies for different nights, delicious!
I took the in-villa barbecue for one night. We were hungry and thought we would order ala carte but they will not be setting up any tables for dining for us, merely just deliver the food to us - This is a little different from a few other resorts we have been to and it was not in alignment with the fancier plans we were intending to have, so we decided on the barbecue. We were supposed to inform the reception a few hours in advance, only 6 villas can have it done per night at maximum, and it supposedly ends at 9.30PM. I called at a pretty last-minute moment and after checking with the staff, the reception helped me arrange for one immediately anyway - The barbecue was set way past their duty time and we felt bad for them, and considering that they, or rather primarily one guy named Gusti, set it up immediately and our dinner lasted until 11.30PM. His service was excellent throughout and there is no sign of any frustration with working past his duty time. Food was fantastic, and to have the view of your villa in the night time, the clear stars in the sky and the sound of waves - simply marvellous. The only problem is that you have to buy drinks separately from the package. We had a bottle of carbonated water that we stocked up on prior to our arrival and Gusti helped us with refilling our glasses with it with no problems.
We also had a reservation for dinner at Jumana restaurant, which is picturesque at it's best. Bring along your camera please, with a tripod! The most beautiful moment happens during sunset at about 6.30PM and your tripod will come in handy with taking self-shots and non-blurry photos. Our seat was the best in the house, it was located inside the building and through it, towards an open veranda area that faces an unblocked, slightly lighted and luminous stretch of waves of the indian ocean. Up above were twinkling stars. Food was FANTASTIC and the chef was very generous with 3 filler light foods between our appetizers, entrees and desserts. I highly recommend the Japanese Black Cod with Foie Gras - BEST food I have tasted in my entire life!
Miscellaneous...
Pros: HUGE space. Extreme privacy (where it matters at least). Plenty of toiletries, and not poor in quality either! Replenished every day. Prompt and reliable buggy service. Excellent service standards. Plenty of entertainment choices with their TV channels. Daily incense and aromatic oils so there is always that spa aroma around the villa. Tamarind restaurant has a nice pool beside it but it was not being used by anyone whenever we dropped by. The pool bar is very refreshing. The library has an abundant collection of DVDs for you to rent at no charge. The souvenir shop had many fancy items, most of which are expensive but definitely are enticing when you are in the honeymoon mood and the lady seemingly getting interested in Balinese bath soaps, shampoos, incense sticks and sarongs. Take a buggy ride down to the beach - or halfway that is, at least, especially if you do not have cliff edge villas or a dining experience ar Jumana during daytime. The view is amazing! There are virtually no mosquitoes during our visit and although it was hot and sunny, there was an abundance of wind from the coast, always breezy.
Source: www.tripadvisor.com