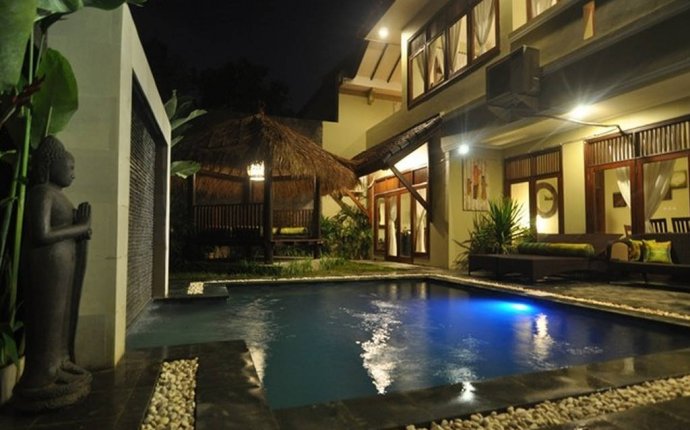 Bali Villa Havens Review
RENTING a private villa is de ­rigueur for many of the almost one million Australians who holiday in Bali each year.
Twenty years ago, many ­Aussie travellers made do with budget accommodation, replete with a traditional Indonesian mandi — a giant tiled water tub with a plastic scoop for bathing. Electricity might come on once a day for an hour or so. Or it might not.
These days, luxury villas — with private swimming pools, personal chefs and on-call chauffeurs — offer holidays fit for a rock star. Often cheaper than a hotel and offering more seclusion — think complexes with lush, walled gardens and dedicated staff — the private villa also ­offers considerably greater bragging rights than a three-star hotel on Kuta Beach.
But paradise can have its pitfalls and it pays to do your res­earch before booking your luxury pad.
Hapless holiday-makers have reported being ripped off by scams, including the phantom villa, where guests pay to rent ­accommodation that doesn't exist; overcharging; and the false promise of goods and services such as disabled access.
"Aussies are going everywhere ... and they are getting fleeced if they meet the wrong people and don't get professional guidance, '' says Melbourne-based lawyer Michael Bula, of Michael Bula Solicitors, a specialist in international property transactions.
In Bali, Matthew Georgeson, Elite Havens managing director, says villa scams are increasing.
Georgeson, who manages more than 160 villas in Bali and Lombok, tells of an ­elderly Australian woman and her wheelchair-bound daughter arriving for a holiday having been assured their villa was wheelchair-friendly. "They arrived at Christmas time to find the villa was not wheelchair friendly and, because it was that time of the year, it was not easy to find an alternative with disabled access, '' Georgeson says.
"Guests arrive in Bali and find they have been duped.''
Despite the problems, Georgeson says, there is a big future for villas.
"People like the staffing, they like the privacy, they like the extra room, the gardens, and the private pool.''
Georgeson vets each villa in his rental pool. "Our job is to ensure that the villas we offer meet our standards.
"Some villas might be ­perfect, but at others we might have to train staff, improve furnishings: should these conditions be met, we sign them up. But they have got to maintain that standard.''
Sydney architect and urban designer Rodney Jensen and his wife, Joanne Winstanley, are spending four weeks in Bali next month.
After an extensive internet search, they have booked a self-contained villa owned by a French family in the popular beachside district of Sanur, paying about $50 a night through online site AirBNB.com.au.
"We both prefer self-­contained accommodation and access to a pool that is only confined to two or three other families, '' says Jensen.
"We value having some sort of relationship with the manager beyond it simply being as a guest in a large hotel. The living quality and experience of living in a private villa is a quantum leap from staying in a five-star ­accommodation.''
But you can have a villa in Bali and it can be five-star.
London-based Small Luxury Hotels boss Paul Kerr oversees five SLHs in Bali and the company may introduce private villa rentals in the near future.
Source: www.theaustralian.com.au