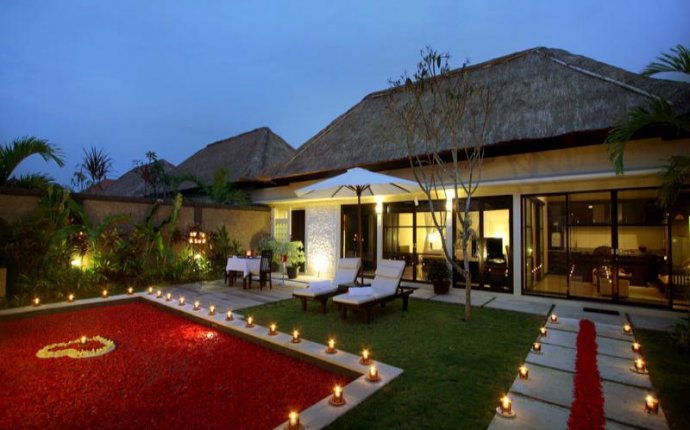 Bali Rich Villas Seminyak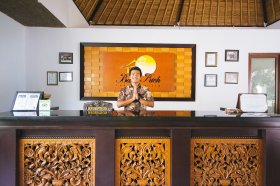 We had rented a Jeep in Kuta and were exploring the Island on our on time (best way to do it) using Google Maps. Finding Bali Rich Villa's was extremely straightforward which is always a huge relief when driving in a foreign country. Often we'll find that places on Google Maps are listed in the wrong locations and that isn't so fun. (Especially when you have to turn around and drive for another 40 mins in the direction you just came from!) But the villa's were perfectly located so that wasn't problem.
We parked in the big carpark out front and checked in with a very friendly man named Maday. Friendliness was something that we encountered throughout our stay actually. All the staff were well trained and often helped us without being asked.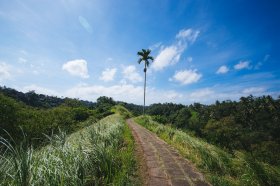 Our villa was huge! We had a private pool (which was actually quite small but great for quick dips), a comfortable outside lounge area and kitchen with all the things we needed.
Our room was simply ginormous. We literally could have thrown a party for 30 people in our bedroom. It was that big. And it had loads of cupboard space, so if you are bringing lots of clothes along – you are well covered.
In the next section we found an equally large bathroom with a glorious shower, heated floors, massive bathtub and a very large section with a mirror and twin basins for washing our faces and brushing out teeth.
We enjoyed all of our breakfasts at the restaurant which has stunning view over the thick tropical foliage of Bali. It is a perfect spot for bloggers like us to have a coffee and do a spot of writing too. I thoroughly enjoyed spending time in the restaurant.
As well as private pools, the resort also has a main pool which looked extremely tempting. Unfortunately we never actually jumped in because we were having so much fun in our own pool! There is also a daily yoga class for anyone who wants to join.
We can definitely recommend staying at – the location is perfect if you want to be just a little out of town (5 min drive.) It feels exclusive, the staff are brilliant, the restaurant has a wonderful view and it's easy to find. Also, the villa's are huge!
Negatives: We are always asked to include some negatives about the accommodation, (and it's only fair) so i'll say that the food could've been a little better and there wasn't enough hot water in the cylinder to fill our amazing bath tub. That's all I can think of.
Source: thetravelmanuel.com