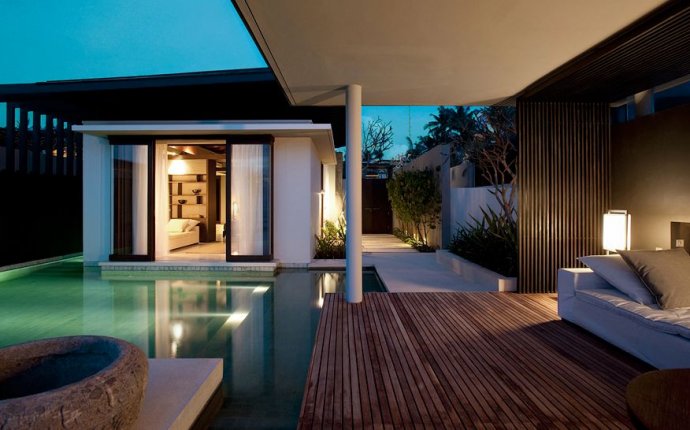 Alila Villas Soori, Bali
WiFi throughout, library, spa, gym, bicycles, gift shop. In rooms: personal host service, flatscreen TV, preloaded Apple TV, iPod dock, luxury bath products, minibar, espresso machine.
Our favourite rooms
All the sublime minimalist pads enjoy ocean views, but book into a second-storey Ocean Pool Villa for a blue bonus: a sea-view bath tub. Villas 202 to 206 are best positioned to maximise the postcard-perfect panorama.
Poolside
At the resort's heart, lies a sleek 25m infinity pool with four submerged day-beds at the shallow end.
Spa
Soori Spa sits on the edge of the black-sand beach and offers a range of beauty, massage and wellness treatments; choose from classic massage therapies, acupuncture, neuropathy and meditation sessions. Indulge in a knot-untangling Thai massage in one of the five stone and terracotta treatments rooms, then relax in the mediation pool and enjoy the fresh ocean breeze and views of Mount Batukaru.
Packing tips
Women will need to cover their shoulders at nearby temples, otherwise Odabash bikinis and floaty Heidi Klein numbers should do the trick. Bring closed shoes, or your own hard hat, if you're planning on horse-riding.
Also
Smoking is permitted outdoors. Sunscreen, after-sun gel, lip balm and mosquito repellent are provided in-room.
Children
Younger guests are welcome in these divine natural surroundings. Baby cots are free, and although extra beds can't be added to rooms, the villa's sofa can be made up for children up to 12 years old to sleep on. Babysitting costs about US$16 an hour.
Overview
Best for
Children of all ages.
Recommended rooms
The three-bedroom villas work best for families. If you like to play and stay with friends who have kids, the resort also has a five- and 10-bedroom villa. For smaller groups, some of the One-bedroom Beach Pool Villas have adjoining second bedrooms.
Activities
All ages can participate in Balinese dancing lessons to get into the local groove. Horseback riding is on offer for older children as well. Many of the customised Soori programmes, focussed on cultural activities, are suitable for youngsters, but the Leisure Concierge and personal butlers are the best sources of advice for this type of family planning. Little Smiths can learn all about chocolate, make and fly a traditional Balinese kite, craft terracotta trinkets at Pejaten village, go on a guided butterfly walk through the tropical surroundings, or bake and decorate cookies with Soori's pastry chef.
Swimming pool
Let them frolic in the private pool in your villa or head to the beachside infinity pool where there's a shallow end.
Meals
Whenever the restaurants are open, kids are welcome and can select from a special menu. Staff members from the kitchen are happy to warm up milk or baby food upon request.
Babysitting
Available for around US$16 an hour, with two hours' notice.
No need to pack
Baby cots are free, but book them in advance.
Also
The resort doesn't add extra beds to rooms, but can make up the villa's sofa as a single child's bed for kids under 12 years old (ideal if you're staying in a one-bedroom villa). Rooms in the villas open directly to the pools, so toddlers will need close supervision.
Source: www.mrandmrssmith.com