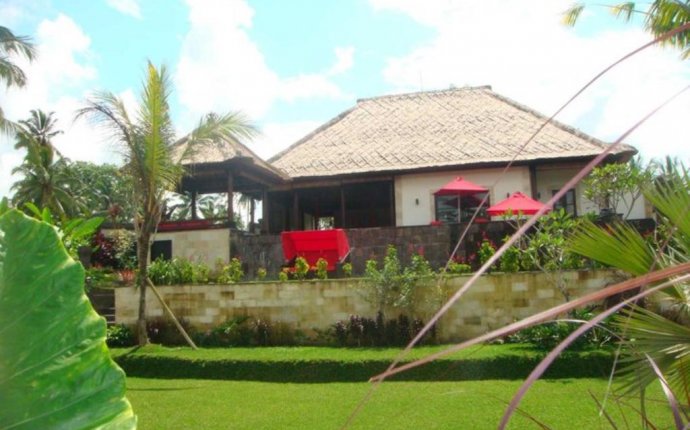 Villa with private Pool in Ubud Bali
Villa Cenik is a single bedroom villa hidden at the end of a 500 meter walking and bike track. It's location ensures, privacy, security and magnificent valley views. It is the perfect place to relax, meditate and rejuvenate.
Villa Cenik is situated in Ubuds well known artists' village of Penestanan. Just an hour from the airport and 500m above sea level, guests enjoy a more temperate climate than the coast. The villa is a private and secure one-bedroom residence situated on a quiet lane way in the Penestanan rice fields. It provides the ideal place for relaxing and enjoying Ubud's unique cultural and dining experiences. This quality villa provides river views and is a short walk from several local restaurants, spa complexes, yoga studios and a supermarket. It is a 25min walk to the centre of Ubud or 300m walk to the nearest road and taxi-stand where you can find a trip to Ubud central (just a 5min drive) for about 3USD. Once in the villa you are in your own tropical paradise, free to relax and enjoy the privacy of the gardens, listening to the stream, watch fireflies and make use of the swimming pool and other facilities. Although you cannot drive up to the villa (if you could it wouldn't be so peaceful and relaxing) there is a 300 meter footpath leading from the house to the main road (Jalan Chumphuan). And another track (500 meters) that allows walking and motorbike access from Penestanan village. The villa also provides undercover parking facilities for motor bikes.
Ubud is located 35 km northeast of Bali's International Airport. It is attractive to tourists for a variety of reasons. On a relatively small island with a horde of attractions, Ubud is centrally located, There are plenty reasons why Ubud was voted in recently as the most fascinating city of Asia by Condé Nast Traveler. The Ubud area is around two to three hundred meters above sea level and surrounded by rice fields, which makes it noticeably cooler than other tourist destinations in Bali. Neighbouring villages are well known for unique bamboo crafts and furniture, wood and stone carving and many other crafts. Ubud is famous for it's regularly nightly traditional dance performances, which are part of the traditional culture and are arranged for tourists on a regular schedule. Hindu-Balinese ceremonies take place on a nearly daily basis, especially in the European summer, which is the driest and coolest season here. Ubud is popular in part today because it is the best place in Bali to break out of the tourist mode and get off the beaten path, although far from undiscovered. Hotels are plentiful; home stays and Indonesian guesthouses (losmen) are easily available to the foreign tourist. Many tourists simply base their entire stay here and travel to other destinations from Ubud. Accommodations in Ubud are also somewhat more reasonably priced than in the beach towns of Bali. But atmosphere is perhaps the major attractions. One visitor summed it up this way: Kuta is madness, Sanur is sterile, and Nusa Dua is culturally isolated; Ubud is the place to go.
Wow. This villa in penestanan was a dream come true. Tucked away down a jungle path Indiana jones would be proud to bushwhack (a scooter is a must if you're to stay here), the pictures don't come close to doing this place justice. I stayed all over ubud and this place outranked them all. Thank you Nyoman, for being the best caretaker a guest could ask for.
Could not believe we had the whole place to ourselves when we arrived, it is ENORMOUS!! Faren and I are ready to move in permanently, we felt like royalty living in a scene from the jungle book. Cannot wait to stay there again! Thanks Steve!
We had a great time at Villa Cenik. The villa is even better than shown at the photos & you feel like you're right in the jungle. It's very quite & if you want some time for your own, just to chill and hang out, this is the perfect choice. The housekeeper is very nice & made a pretty good breakfast! All in all was it a pleasure to stay here! Thanks!
We spent 4 nights at the Villa and absolutely loved our stay. The communication worked perfectly. The villa is situated in a beautiful surrounding offering views on tropical rain forest and great nature. All facilities are of high quality and work fine. The daily offered breakfast is really delicious and always prepared on time! Unfortunately our luggage was lost by the airline as we arrived on Bali. Steve was a great host and did everything he could to help us getting it back. All in all I would definitely recommend it!
Had a nice stay, the villa is beautiful and is a bit away from the bustle of Ubud surrounded by beautiful nature. However all walking far easily accessible. The staff spread us breakfast and was always friendly and helpful! The Villa is definitely recommended.
Villa Cenik was a beautiful villa, very quiet, isolated and private, a perfect retreat to relax by the pool and lookout on the jungle. It was about 20-30 minute walk into Ubud so quiet nice, a scooter would have been quicker but we didn't rent one. Loved being a 5 minute walk to Bintang Supermarket, Infinity Flow Yoga Studio, and so many wonderful places to eat close by, we just needed to remember to bring a headlamp or flashlight as the evening walk home was always dark, but felt perfectly safe. Campuhuan Ridge walk was also about 20 minutes away. The village of Penestanan where the villa is located is a very nice, quaint village to walk around so many little areas, and we always felt safe and met many friendly local people. Very happy with our stay here and not in the hustle and bustle of Ubud. The house caretaker Nyoman took wonderful care of the villa and prepared excellent breakfasts every morning, we felt so spoiled and highly recommend Villa Cenik.
We had a fantastic time at Villa Cenik. The villa is located at the end of a small foot path without street access but with the help of our attentive driver, organised by the Villa manager, we managed to bring our luggage there quite easily. Staff came in each morning to fix a simple breakfast with a local fruit, eggs of your choice, pancakes and delicious fresh bread. They worked around our schedule in terms of breakfast time and cleaning to keep the Villa spotless. Ubud can be reached within 10-15 minutes via scooter and there are restaurants, cafés and Yoga places within walking distance. However, if it's rainy the footpath can get really muddy and flooded and is not recommended for people who are not confident driving a scooter in these conditions. If you are looking for a no frills, peaceful and relaxing experience this will be absolutely the right place for you.
Source: www.airbnb.com