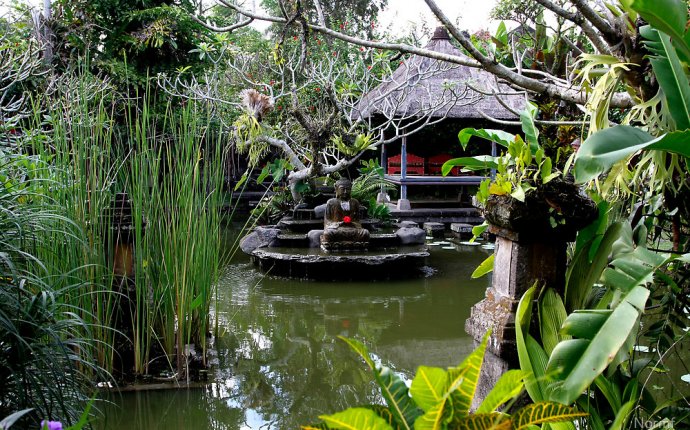 Ananda Cottages Bali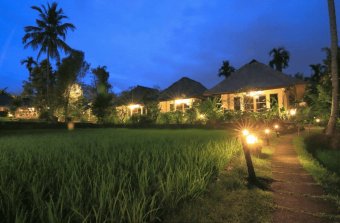 Module # 1: Body
100-hour Advanced Level Training
November 14-25, 2017
Ubud, Bali at Ananda Cottages
This module explores yoga asana through the direct experience of our own body systems, tissues and cells. Students will deepen their knowledge of the body and consciousness, emerging as a more precise and confident practitioner or teacher. Students will receive 100 hours credit towards their 300-hour Advanced Teacher Training Certification.
Advanced Level Embodied Flow™ Track. Prerequisite: A previous 200-hour RYT Teacher Training. Embodied Flow™ Foundations is highly recommended.
This 100-hour "Body" Module focuses on discovering the total sense of embodiment from the Embodied Flow perspective into the living art of yoga. Using the lens of asana and movement meditation, the "Body" module will concentrate on foundational material for integrated movement. This immersion utilizes experiential anatomy, kinesiology and physiology as a platform for effortless and empowered asana.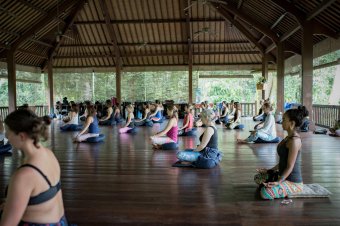 Human beings can be defined as clusters of consciousness, organized into various densities, frequencies, functions and sensations. Anatomist Gill Hedley coined the term somanaut to describe those who explore the interior framework of their being. As you experience this module of the Embodied Flow advanced level yoga training, the following subjects taught provide a framework that will allow you to dive ever deeper into the exploration of Self:
-Explore the five foundational Principles of Embodied Flow
-Introduction of experiential philosophy (the practice of weaving philosophy into an embodied journey)
-Discover various systems of the body from a Body Mind Centering™ perspective
-Learn functional biomechanics that allow your students to align from the inside out and the outside in
-Explore moving from different points of initiation that allow a greater ease and effortlessness in asana and movement
-Examine ways of working with students in their wholeness so as to support their process in an inclusive and empowered way
-Introduction into the Embodied Flow method of sequencing classes
-Pranayama and meditation practices
-Expressing unconscious and conscious aspects of self through movement meditations
-Foundational components of manual therapy and bodywork
-Tantric philosophy and its relationship to Embodied Flow
Take your practice or teaching to the next level. Each of these three Advanced Yoga Modules (300 hours total / RYT 500 Standard) count for 100 credit hours towards the Embodied Flow School™of Yoga 300-hour Advanced Training. These modules are also open to advanced yoga practitioners for credit with Continuing Education Units (CEU). These Advanced Yoga Modules can be taken by section or all together. Students who take part in all three training modules will receive the 300-hour Advanced Yoga Teacher Training certificate from Embodied Flow™ that allows for the registration with the internationally acknowledged Yoga Alliance.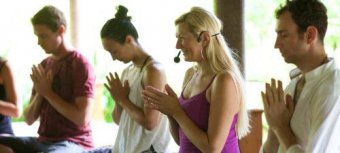 The Ananda Ubud Cottages are located in the idyllic hills of Bali, just a 25 minute walk from the village center of Ubud, surrounded by lush, green, fertile rice paddies. Traditional Balinese architecture characterizes the cottages. All rooms are air conditioned with lush garden bathrooms, conveying the essence of the tropics. Ananda Ubud Cottages has an extensive history of offering Yoga and Spa Service since 1978, and it's one of the most notable retreat centers in Ubud.
Ubud is the artistic and cultural heart of Bali. It is home to many painters, dancers, musicians and sculptors. Three art museums have both traditional and modern fine art. The Ubud market is a favorite with a vast array of local produce. While exploring the nearby Monkey Forest Nature Reserve, you will find an ancient Hindu Temple in the midst of the jungle. Ananda Ubud Cottages is a Ubud accommodation budget, which includes a lush private garden, swimming pool and a very large shala, ideal for group movement in the midst of its peaceful surrounding.
Sample Daily Schedule:
Please note, the first day will commence at 2pm on November 14 and the module will end with a full day on November 25.
The daily schedule will be subject to change based on the day and the needs of the students.
7:00-8:30am Pranayama, kriya, meditation, contemplation
8:30-10:30am Asana
The training includes brunch. Please indicate on your application if you have any dietary restrictions or food allergies.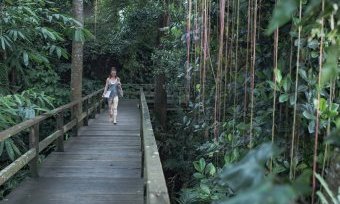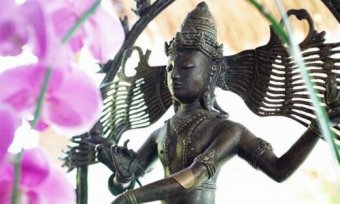 Source: www.tarajudelle.com